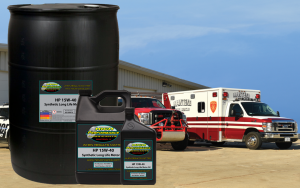 High Performance Lubricants Heavy Duty CK-4 engine oil is one of 3 multi-synthetic engine oils we offer. These oils are not something you will find on the shelf of a discount retailer. If you are person looking for a product that will outperform traditional mineral and synthetic oils our products will be a perfect fit for you. We build our products to perform at higher standards rather than just clearing the minimum requirements set by OEM specifications. Choices are important when selecting raw materials for finished products. Good choices in formulation allow these oils to excel in extended drains in tough operating conditions. Premium additives coupled with base oils that have low volatility mean these oils can minimize consumption, reduce wear, provide lower coefficient of friction, have much greater oxidation stability, and will run very clean in service.
Suitable Replacement For:
API CK-4, CJ-4, CI-4 PLUS, CI-4, CH-4
API SN, SM, SL, SJ
API FA-4 (10W-30)
ALLISON TES 439
ACEA E9-2012, E7
CAT ECF-3, ECF-2
DAIMLER 228.31
DDC DFS 93K222, DFS 93K218
FORD WSS-M2C171-F1
JASO DH-2
MACK EOS-4.5, EO-O Premium Plus, EO-N
MAN M3575
MTU Category 2.1
RENAULT RLD-4, RLD-3
VOLVO VDS-4.5, VDS-4, VDS-3
Please visit our distributor's page to purchase : Advanced Lubrication, Inc.