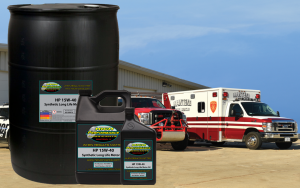 High Performance Lubricants' Premium Plus passenger car engine oil is a multi-synthetic high performance motor oil made with the best choices of additive chemistry. When compared with our other PCMO product lines this series takes advantage of high quality PAO delivering superb pour points as well as an advanced VI Improver that has superior shear stability index. It is designed for equipment, environment, or service that is particularly harsh. Oils formulated with specifically chosen esters can help to minimize intake valve deposits, maintain clean engines and provide elastomer compatibility. The correct detergent selection combined with base stocks that have low volatility will combat low speed pre-ignition (LPSI) making it a perfect oil for gasoline direct injected (GDI) engines and small displacement turbocharged gasoline engines. HPL PCMO Premium Plus is also formulated with extra anti-wear and antioxidant additives to minimize wear while offering an extended oil life compared to other motor oils. Additionally, HPL PCMO Premium Plus contains premium viscosity index improvers (VII) to minimize shear, further extending the life of the oil. This technology has been proven on the race tracks around the nation. Our Bad Ass Racing oils have common additive strategy when compared to this PCMO Premium Plus formulation and have been extremely successful winning multiple championships in many forms of professional motor-sports. These oils are not something you will find on the shelf of a discount retailer. If you are a person looking for a product that will outperform traditional mineral and synthetic oils our products will be a perfect fit for you.
Suitable Replacement For:
API SP Resource Conserving (0W-16, 0W-20, 5W-20, 5W-30)
dexos1TM Gen2 (0W-20, 5W-20, 5W-30)
ILSAC GF-6A (0W-20, 5W-20, 5W-30)
ILSAC GF-6B (0W-16)
Chrysler MS6395 (0W-20, 5W-20, 5W-30)
Ford WSS-M2C945-B1 (5W-20)
Ford WSS-M2C946-B1 (5W-30)
Ford WSS-M2C947-B1 (0W-20)
Please visit our distributor's page to purchase : Advanced Lubrication, Inc.